Woldpac specialise in printed polythene bags or poly bags
We make these according to our customers' requirements and for reinforcement of brand identity.
Options available
Standard LDPE Gauge 180G with reinforced patch handle
PATCH HANDLE CARRIER BAGS Standard LDPE White or Clear 180 Gauge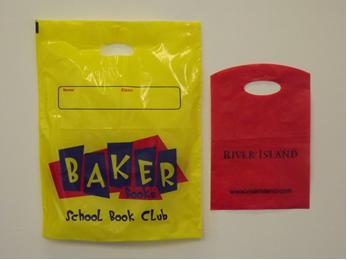 Thicker material: 200G 250G 300G
Coloured film
Printed up to 4 colours 2 sides standard line work or full process print.
Minimum order quantity: 3,000
VARI-GAUGE CARRIER BAGS
Standard LDPE White or clear 180/360G
Coloured film
Thicker material 250/500G
Printed up to 3 colours 2 sides or 4 colours 1 side
Minimum quantity: 1,000 bags
LOOP HANDLE CARRIER BAGS
DRAW-TAPE BAGS
Minimum order quantity: 3,000 or 5,000 for bags with 100% ink coverage.
LDPE 300G DUFFLE HANDLE CARRIER BAGS
Minimum order quantity: 1,000
PUNCH OUT HANDLE CARRIER BAGS – for lightweight products
Size: 8"x 12" 10" x 12" 12" x 12"
Gauge: 180G or 300G
Clear White or coloured
VEST CARRIER BAGS
11"x17"x21"
HDPE 20mu
POLYTHENE CLIP CLOSE CARRIER BAGS
There is a comprehensive range of clip-close handle bags available suitable for most applications: