High Visibility Printed Tapes for Promotion and Security
Vinyl (PVC)
PVC is a premium packaging tape, with excellent adhesion and high quality strength.
PVC is ideal for printed logos and enhancing your corporate identity
POLYPROPYLENE (PP)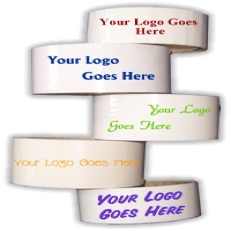 Polypropylene printable packing tape is ideal for the colder environment.
Polypropylene tape is cheaper and ideal for instruction labelling – for example: FRAGILE, QC REJECT, ORGANIC, DESTINATIONS etc. Logo's tend not to be as clean on PP as they are on PVC, as the tape is thinner.
STANDARD PRINTABLE MATERIAL
PVC White Clear & Buff
PP White & Clear
We can print up to three pantone colours on all materials in widths 12mm to 150mm and can include half tones of any colours already used.
As a guide Standard rolls would be 48mm x 66m
Minimum order quantity for Printed tape is 144 rolls
PRINTED BARRIER FILM
We also offer printed non-adhesive barrier films in different sizes, colours and thicknesses This is great for highlighting health and safety regulations and also areas of caution. It can also be used for advertising for promotion and outdoor events.