This product is certified home compostable. Complies with European standard EN13432.
As with most new products cost will naturally be more than our normal bags, but we feel this product a viable alternative to oil-based polythene with the best green credentials to back it up and will still be more economical than paper products.
Currently plastic products are being targeted by governments and environmental institution's so we are constantly being asked for viable alternatives and we consider potato starch carrier bags can be the answer to meet this demand.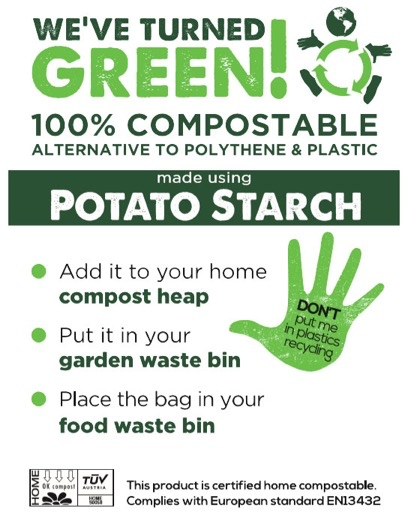 The majority of councils provide garden waste bins, but if you are unsure please check with your local council's own advice.
Please do not place this bag in your recycle bin. If you are unable to dispose of it in a compost heap or garden waste bin, please pop it into your domestic waste.