Did you know WOLDPAC supply plain & printed GRIP-SEAL BAGS manufactured to order to suit individual customer requirements?
WOLDPAC Grip-seal bags are produced at our factory in the UK and can be supplied in relatively small quantities. We also hold a range of plain bags available from stock:
CLEAR GRIP-SEAL POLYTHENE BAGS – 50mu film
Boxed in 1,000's Size:
38mm x 57mm 114mm x 114mm 190mm x 190mm 254mm x 355mm
57mm x 57mm 100mm x 140mm 152mm x 230mm 280mm x 405mm
57mm x 75mm 140mm x 140mm 203mm x 280mm 330mm x 456mm
75mm x 95mm 75mm x 190mm 230mm x 324mm 381mm x 510mm
95mm x 114mm      125mm x 190mm      324mm x 324mm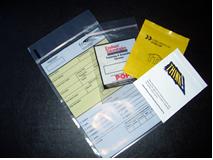 PRINTED GRIP-SEAL POLYTHENE BAGS – 55mu film
Minimum width available: 75mm
Minimum quantity: 5,000 bags, subject to size and number of colours for viable costing.
For your information small grip-seal bags are produced outside the UK and are only available in quantities in excess of 250,000/500,000 bags subject to size.
GRIP POLYTHENE HEADER BAGS
Clear Polythene Grip-seal bags with Euro-slot for hanging display
Boxed in 1000's Size:
57mm x 57mm 2.25" x 2.25"
75mm x 83mm 3" x 3.25"
88mm x 114mm 3.5" x 4.5"
140mm x 140mm 5.5" x 5.5"
127mm x 190mm 5" x 7.5"
152mm x 230mm 6" x 9"
Call for a quote