We provide polythene mailing envelopes and mail order despatch bags in any size or any colour, matt or gloss, custom printed or plain, lightweight or in super tough tri-laminate. Our mailing envelopes are ideal for any type of product that needs to be packaged and protected when sent via mail or courier.
Whatever your mailing bag requirements, call WoldPac now on 01483 229184, or contact us here.
First impressions are an essential element of the direct mail industry and well designed mailing envelopes and mail order despatch bags can facilitate the sales message, underline corporate identity and build brand awareness.
Manufactured from a range of materials including co-extruded films, printed polythene mailing envelopes and courier bags can be custom printed in up to 8 colours and produced to suit individual customer requirements. Small quantities are not a problem. Polythene mailing envelopes provide an ideal solution for both protecting your products and minimising delivery costs.
Lightweight Polythene Mailing Envelopes
Polythene mailing envelopes are lightweight, waterproof and strong. They come in a vast range of colours and sizes with both permanent and resealable adhesive strip options. Clear polythene mailing envelopes are also available where you want the goods and associated messaging to be seen. Opaque polythene mailing envelopes provide content confidentiality and can be custom printed in up to 8 colours and have a white franking panel or write-on panel incorporated.
Metalic Mailing Envelopes and Barrier Laminate Materials
For ultimate protection against gas and moisture permeation we offer a variety of laminate materials produced to customer requirements. Metalic bubble protective mailers for fragile products, silver translucent or flash metalised film mailers with or without anti-static properties are available to provide a high quality presentation for your goods. Our product range options include skirt weld, side weld, wicketed, bottom gusset and stand up pouch bags.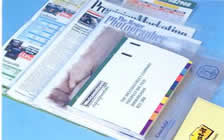 We can also provide a vast range of lightweight and waterproof poly bags if you need to package and send items securely through the post or via a courier service.
Contact us now to discuss your mailing requirements, or to request a free sample.